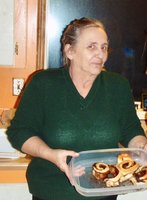 Carol Ann L'Heureux
Carol Ann L'Heureux from Hornpayne, Toronto, Emsdale, Sundridge, and most recently London, Ontario, left us suddenly in the early hours of February 24th in the comfort of family present at University Campus, LHSC, London, ON. She joins her mom, Shirley Steeves, her brother, Bob Steeves, and her late husband Art L'Heureux. She leaves behind her father, Bill Steeves; her children Adam (Kyla), Ray (Selena), James (Tanya), and Hoyden; her grandkids Kimble, Meredith, Abby, Ava, Fernand, Esche, David, Sally, and Mikey; and many, many friends.
Loyal. Determined. Loving. Genuine. Supportive. Modest. Generous. Quick Witted. Warm. Storyteller. Adviser. Bargain hunter. Passionate knitter. Avid tea drinker. Talented baker. Caregiver. Great confidante. Attentive friend. Doting daughter. Proud mother. Devoted grandmother.
She will be dearly missed, leaving pieces of herself in all those she touched in her unique and caring ways. She continues to warm and feed our hearts like her knitted blankets, knitted socks, and love-filled food. Thank you Mom, "Mom 2", Grandma, Carol. You did more than you know.
There will be no formal funeral arrangements; however, the family will host a drop-in virtual/call-in session for anyone who would like to meet and share stories to celebrate her life. If you would like more details or would like a copy of her Eulogy card please email rememberingcarol2021@gmail.com. Elliott-Madill Funeral Home entrusted with arrangements. www.elliottmadill.com