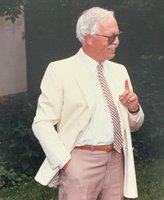 Bob Swinarton
SWINARTON, ROBERT JOHN
Dec 3, 1932-Nov 30, 2020
Predeceased by his parents John and Gladys and younger sister, Marian, Bob was born and raised in Toronto. He was a founding member of the Chartered Accountancy firm of McCarney, Swinarton in 1966 and a graduate of the University of Toronto.
A mild-mannered accountant Bob was never one to talk about himself. He was a single dad in the 1970s. He swam at Club Med Senegal in 1972, skied the Alps, sailed in the West Indies and journeyed to climb into Egyptian pyramids and touch the Wailing Wall. He walked on the Great Wall of China, wandered Moscow, and cruised his way through the fjords of northern Europe way before it was cool. He was a fabulous photographer, with horses as his favourite subject and a connoisseur of music, especially Bossa Nova and the sounds of Jobim. He would stay up all night to write a poem for a birthday card or watch F1. As an accountant he adored the stats of baseball and followed the Toronto Blue Jays enthusiastically!
But of all the things he loved, Nancy Claire Johnston Peel Swinarton, was who he cherished the most. Married in 1984 he moved to London, ON. They almost never walked together without holding hands. As avid travelers they explored South America and Europe many times with Paris and the South of France being the favourites. Bob was always game for a glass of Pouilly Fuissé and a lemon tart. A bit closer to home the family cabin in Newfoundland provided peace and tranquility where Bob was a fan of local rally sport.
He leaves behind his wife of 36 years, Nancy, of London, Ontario his three children, Simone (Barry) of Trail, BC, Michelle of Calgary, AB, and Tim (Helen) of Oakville, ON and grandchildren Brett and Gwyneth. He will be forever remembered by his two stepdaughters, Jennifer Peel of McLean, Virginia, and Elizabeth (Dee-Dee) Peel of Toronto. Also, Matilda, his canine friend who very intuitively provided needed companionship and quiet when he lost his thoughts. Bob fought a valiant battle with Alzheimer's and died peacefully in his sleep just short of his 88th birthday. He kept his sense of humour to the very end and was a favourite at Middlesex Terrace in Delaware, ON where he died.
Alzheimer's may have taken him from us, but he will not be forgotten.
No funeral is planned.
Raise a glass of chilled Chardonnay and say cheers to a life well lived.
Forever in our hearts. Bye Bob.
Elliott-Madill Funeral Home, Mount Brydges entrusted with arrangements.