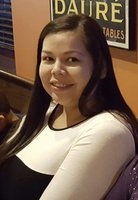 Channon Cheylene George
Suddenly on Wednesday, December 26th, 2018. "Watahuhsatuts" Channon George of Oneida Nation in her 28th year. Loving partner of Kakwilahele Elijah. Loved and cherished mother of Valor, Kyroe, and Lachlyn. Sadly missed daughter of Christina. Predeceased by father Lance Doxtator. And will always be in chosen mother Valerie's heart. Remembered sister of Starla, Ashley, Kingsley, Sophia, and Christopher. Remembered grandaughter of Great grandfather Leslie Grosbeck and grandfather Gregory Lance George. Predeceased by grandfather Ira Doxtator and great grandmother Delcie Grosbeck. Loving Aunt to many nieces and nephews. Channon loved life and had a passion for cooking that took her to Italy and also to study at Fanshawe. Her greatest love was her three children.
Friends may call at her residence 1097 River Rd, Oneida on Friday December 28th after 6pm and on Saturday. Funeral service to follow on Sunday from the Longhouse River Road, Oneida commencing at 11am. Interment Longhouse Cemetery.