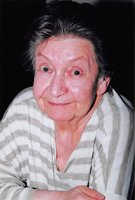 Anne Fekete
Anne Fekete, John's dear wife, friend and our thoughtful loving mother has passed away. She joined John and her son Michael early in the morning of January 28, 2018. Anne felt deeply and offered nothing less than all she could. Anne loved her family. Anne's family loved her. She is survived by children Susan (Walter) and John; grandchildren Kim (Luke) Challis and Karen Fekete; great grandchildren Liam, Amelia and Ewyn; chosen family Andy & Cheryl Stockdill, who are all broken-hearted by their loss but believe that her soul is freed to soar. Freedom was so important to her.
Anne described herself as a woman who was ahead of her time in ways, who loved tradition in other ways but mostly felt she wore an shield of crankiness that made others misunderstand her. She was our loving mother and closest friend. No one walked away without knowing her position on most any topic. She was politically astute, moved to action by stories of unfairness and was known to hold strong opinion. And yes, she did not suffer a fool! Like her favourite soft centred chocolate sweets that were her secret passion, she hoped that no one knew that she was a bit of a marshmallow. Our mother stood up for the underdog and did much behind the scenes, always preferring to make an impact without the banners. She loved a good joke and held close those people that could make her laugh to tears. Her best friend and granddaughter Karen, shared and held many incredible moments together and these moments truly completed Anne's life. No greater gift did she ever get than the summer she and Karen spent together wearing flowers in their hair, watching Dr. Zhivago and sharing a very deeply satisfying silence when it was decided it was time to listen to nature.
Anne had exquisite taste in all things. In her younger year's pearls were always a must. Heels, definitely. Her signature fragrance, Channel. But quality in relationships was always the most important for her. This she taught her children. And they theirs. Anne chose to be relaxed and hip later in her life enjoying that she could style up her favourite jeans and sweat shirts. She held various jobs – an usher at a theatre that showcased the famous - Sinatra, Bennett and others. A steady trusted presence in a law office. Working in the lab for Ontario Hydro found her working with jokers who often stole her winter boots to dye them purple. A blind date would lead her to meeting the man with whom she would spend the next 64 years. Johnny, as she called him when in private, and she shared an immensely private life that was grounded in deep emotion.
Anne loved to dance. Peeking through the window of her beloved farm home, one may have been surprised to see Anne tap dancing. A long slow dance though … that was her favourite. She was a long time groupie of the Highwaymen and admired the voices of the great women of jazz. She would share the story of how she became aware after hearing "Strange Fruit". Anne was a big supporter of Eminem and his lyrics which she found to be words of the current wisdom.
Anne taught her family about good food. Scratch cooking was her hallmark and in particular she enjoyed introducing her family to the classics like boeuf bourguignon and a great spaghetti sauce. All things being equal, she loved a good take out burger with fries and gravy!
Anne was always motivated to learn and move forward in life with great curiosity. She encouraged everyone she knew to do the same – to keep on learning. Anne was the brains in the Fekete group. An astute woman who knew when the bubble was about to break and positioned her family to always survive. Getting her drivers license at 60, she also returned to the University of Waterloo to gain the undergrad experience that forced her to examine life. When her creative energies were at bay, Anne could always be found in her chair reading. Voracious in her energies to read, she would devour mystery novels, philosophical treaties and Far Side cartoons.
Anne was passionate about her home in the country. As a young woman she lived in northern Ontario and learned about landscape, light and shade and perhaps most importantly about resilience. She longed to return to the lake head but this was not to be. Perhaps this would be her greatest regret in life. She loved her dog Bear, a grand Bouvier that was three times her size. While Anne was the anchor for her family, Bear was hers. Anne enjoyed cross country skiing and her year was not complete unless she watched National Lampoon Christmas Vacation at least five times.
Anne's family gathered on February 1, 2018 to say farewell. Arrangements were graciously made through Madill-Elliott Funeral Home Mount Brydges, Ontario. In keeping with Anne wishes, a private gathering at Cook's Cemetery will be held at a later date and that her family will be going for a fabulous meal in her honour.