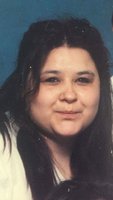 Elaina Marie Halfday
Suddenly, at LHSC Victoria Campus on Wednesday, August 9th, 2017 Elaina Marie Halfday of Chippewa of the Thames First Nation in her 44th year. Predeceased by her parents Sandra Halfday and Raywood Kechego. Lovingly remembered by children Ashley (Tobias), Michael and Brianna Halfday, and granddaughter Arianna. Dearly missed by siblings Steve (Janet) and Frank Halfday, Sheldon (Kaylan) Spurgeon, and Keith and Leah (Kelly) Groesbeck. Aunt to nieces and nephews Chantel, Felicity, Adrianna, Stevie, Madison, Christopher, Drake and Zane. Remembered by many aunts, uncles, and cousins.
Friends will be received at the Elliott-Madill Funeral Home, Mount Brydges on Monday, August 14th from 7 p.m. - 9 p.m. Funeral Service to be held in the chapel on Tuesday, August 15th at 11 a.m. with a reception to follow at the Chippewa Community Centre at 1 p.m. Private cremation to follow.